Our practice incorporates the best of natural and alternative treatments with the latest technologies to deliver the finest care available. We have a stress-free, non-invasive approach to providing pain-free dentistry.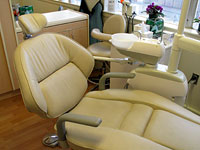 Lots of interest has been focused on holistic dental care or alternative dentistry in Washington D.C. This can mean the incorporation of homeopathy or acupuncture in the practice of dentistry.
Some people are in search of a safe way for mercury removal or amalgam removal. Others are searching for alternatives to root canal treatments or periodontal surgery. Our practice will address questions you may have regarding these topics.
We also educate our patients on the latest services offered in the dental profession. These include laser dentistry and laser bleaching, as well as the newest materials available for dental fillings. There are porcelain veneers for full makeovers and many different forms of teeth whitening available today.
Emergency dental care is also welcome. Dental fear is common, so please don't be embarrassed. We are happy to treat your dental health without a scolding demeanor.